Introduction
A heartworm disease by dogs is caused by Dirofilaria immitis worms. Dogs (also, a German shepherd) get these worms only by the bite of an infected mosquito. These infested mosquitoes are spread in areas with fault irrigation systems that gives insect necessary moisture to live and multiply in numbers. A bite just of one "ill" mosquito can cause a shepherd this dangerous disease.
Life Cycle of a Heartworm
It will take approximately 7 months for the larvae to mature into adult heartworm once a dog is bitten. Then these pests begin to dwell in the heart, lungs, blood vessels and start to reproduce.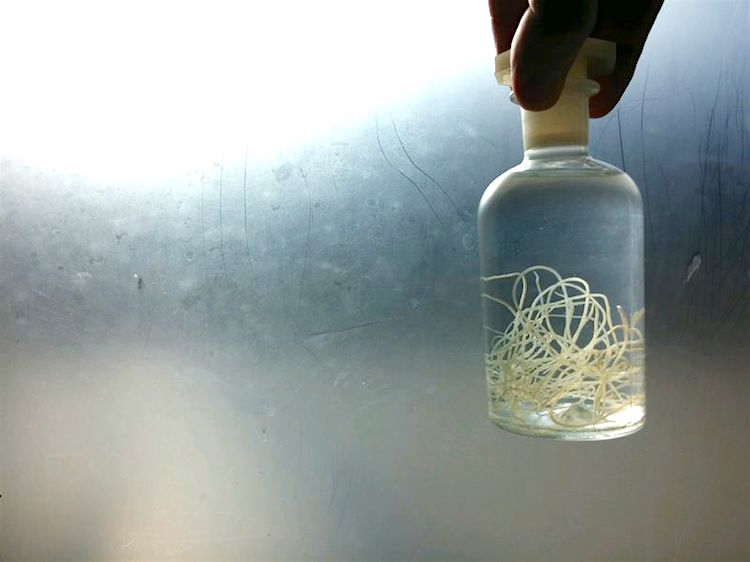 An average lifespan of an adult heartworm is about 5-7 years, so a shepherd can have as many as 250 heartworms in its body.
Symptoms of Heartworm Infestation
Initially, there are no some distinct symptoms, however, as more and more heartworms are "dwelling" in the heart and lungs of a dog, shepherd will have cough. With serious heartworm infestation, there are abnormal lung sounds, severe cough (sometimes with blood), easy fatigability and appetite loss. Finally, a dog dies from the loss of blood to the brain.
Recommendation: in case you hear some irregular sounds from your shepherd (cough, whistling sounds during sleep) immediately pay a visit to a vet doctor.
A dog owner should bear in mind, that, if a shepherd is not treated against these worms, a dog will surely die. This illness is fatal.
How to Protect a Shepherd Against Heartworms?
In fact, a dog owner should protect his or her German shepherd of mosquitoes that carry this dangerous illness. Monthly pills, drops (that are applied on the skin), sprays, collars or six-months protection injectable products will help to protect a shepherd. A year's supply of heartworm preventive measures will cost about $80 with a German shepherd.
Advice: use these products not just to protect your shepherd against mosquitoes, but also against ixodic ticks that are also extremely dangerous. Piroplsamosis (a fatal disease that ixodic tick can carry) can cause serious impairment from the side of liver, heart and other systems. Unfortunately, this disease is transient and sometimes is neglected by dog owners.
Medication and Treatment
Be careful! Remember, that this illness will respond to the treatment better on its primary stages. Take care of your dog and doesn't neglect vet examinations and preventive measures.
An illness caused by heartworms is treated with the drug called Immiticide. It's an injectable, arsenic-based medicine that will help to destroy heartworms in the heart, lungs and blood vessels of a dog. A shepherd will need 2-3 injections to get rid of heartworms entirely.
Before treatment, a vet doctor should examine how serious the infection is. The state of a shepherd is tested by means of X-ray and blood tests.
Warning! When the heartworms are dying within a dog, they are breaking into pieces so they can block pulmonary vessel and cause shepherd's death. It is very important for a dog owner to remember, that a dog should be kept quiet. There are widely-spread cases when dog dies during 7 months after treatment. It happens because their owners begin trainings. A dog will not die from the medicine itself.
Сonclusion
Heartworms cause a very serious and fatal disease by German shepherds and other breeds. This illness is not very easy to treat and almost always goes undiscovered till serious problems emerge.
It is crucial to protect a shepherd against mosquitoes and constantly watch a health condition of a dog. Let your dog be sound and healthy.
Click to rate this post!
[Total:

0

Average:

0

]