Introduction
Dogs need to eat. Surprisingly, this breed is not an exception. Even though Shih Tzus don't have many special demands, their diet plans should still be developed in accordance with their traits. It is essential to know dos and don'ts so that your beloved pet feels good.
How to Plan the Diet
The first thing you need to take into account when planning your dog's diet is his age. A Shih Tzu puppy should consume 30 calories a day, whereas a senior dog should consume 30 calories per each pound of his weight a day. So, yes, the second thing you need to consider is weight. As for hair, give your Shih Tzu foods rich in Vitamin A, Omega 3 and Omega 6 (good) fats, because these nutrients are prerequisite for normal coat growth. Besides, as a small dog, Shih Tzu must eat lots of protein to stay healthy. Breeders claim that a Shih Tzu should get at least 25% of all calories from protein. In other words, make sure that protein is the primary nutrient (and carbohydrate secondary).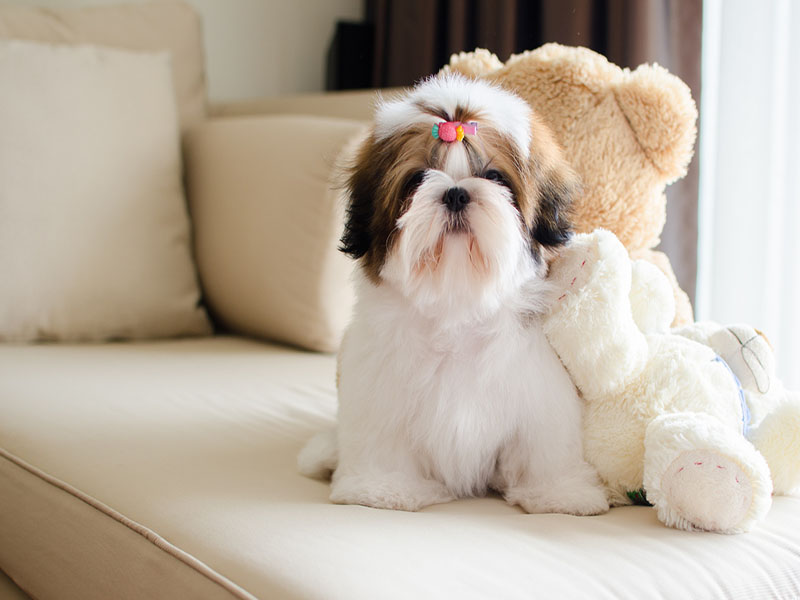 Products
You can find proteins in:
chicken;
turkey;
eggs;
lamb;
beef.
Fish contains both lean protein and good fats. Give preference to:
sweet potatoes;
barley;
oats;
rice.
Which are containing more healthy complex carbohydrates, rather than soy and corn, containing simple processed carbohydrates. Dry foods can help to prevent dental problems, besides, Shih Tzu love dry foods much more than wet ones.
Warning!
Some products harmless for human are deadly dangerous for Shih Tzu. There is no way you can feed your dog with: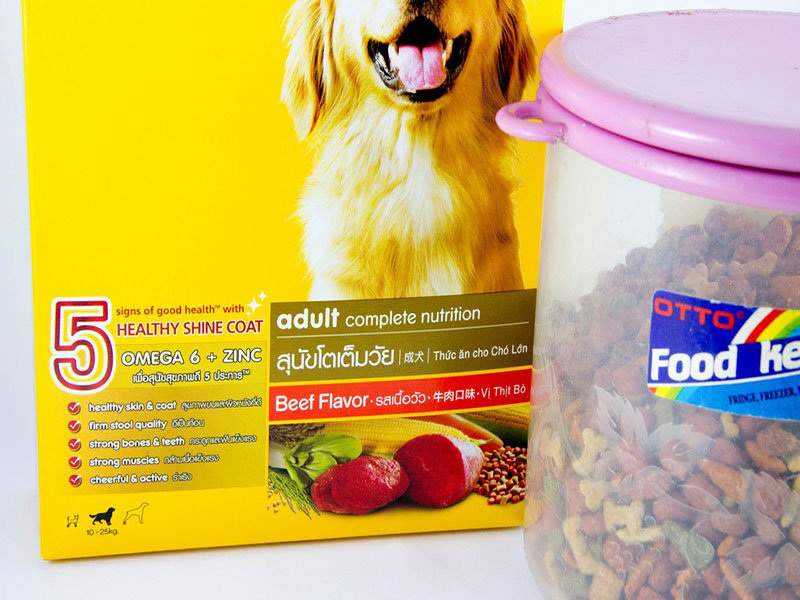 avocados;
onions and garlic;
grapes;
grapes;
milk and other dairy products;
nuts (especially macadamia);
chocolate;
alcohol;
tea;
coffee;
apple seeds;
peaches;
plums;
persimmons;
xylitol;
raw eggs;
cherry pits;
fat trimmings;
bones;
salt;
wild mushrooms.
Brands and Types
Pedigree, Merrick, Eukanuba, Purina, Royal Canin… – number of brands on the market are confusing, but experts have already opted for the top few so it was easy for you to choose. Surprisingly, you won't find the most widely-known trademarks in the list of foods that suit Shih Tzu best.
Diamond Naturals Dry Food for Adult Dogs: Small Breed Chicken and Rice Formula
this one is good for any small dog, but for Shih Tzu it's just perfect. Fresh chicken and a few other ingredients serve as a good source of protein, whereas rice carries just enough carbohydrates and fibers to prevent excessive weight gain. As you already know, Shih Tzu's organism requires vitamin A and this food has it. The only one disadvantage of this formulate is considerably high amount of calcium. As for the taste, researches showed that Shih Tzu puppies just can't help but munch an entire bowl when given Diamond Naturals Dry Food for Adult Dogs.
Canidae All Life Stages Formula for Dogs
includes four different kinds of meat, which is a rare and positive quality, considering the fact that one of them is fish. The only drawback of this food is price, but if you can set aside this issue, this Canidae formulate can be called the best.
Nutro Ultra Adult Dry Dog Food
is exactly aimed at small breeds. It's packed with Omega fats, contains enough animal fat and flaxseed to cover all basics. Moreover, it has fruits, which are good source of antioxidants and rice, which serves as a carbohydrate supplement.
Beneful Dry Dog Food
has only 27% of protein and contains corn, but these minuses are compensated by the fact that this formula really excels in the taste department. Small, crunch kibbles with tender bits go over very well.
Special Issues Related to Diet
In order to avoid hip dysplasia (a state in which ball and socket of the hip joint do not fit), give your dog a supplement called glucosamine and chondroitin. Hypoglycemia (low blood sugar) can be treated well by adding Nutri-Cal supplement, Karo syrup, or honey into the menu. Although, hypothyroidism (the endocrine system disorder) is on any account a nutritional problem, grain free diet may be helpful in alleviating consequences of this disease.
Conclusion
In sum, you should remember a few things to feed your dog right:
more protein than carbohydrates;
good fats and vitamin A are good for hair;
kibbles can prevent problems with teeth;
30 calories/1 pound of bodyweight/1 day.
Hope this guide will be helpful and your dog will stay healthy, brisk and joyful.
Click to rate this post!
[Total:

0

Average:

0

]