Introduction
Yorkshire terriers are one of the most popular dogs in the world. It is one of the smallest breeds of dogs with a very cheerful and sociable temperament.
They differ from other breed by its loyal, brave and self-confident character. Therefore, they are suitable for the maintenance of both experienced and inexperienced owners.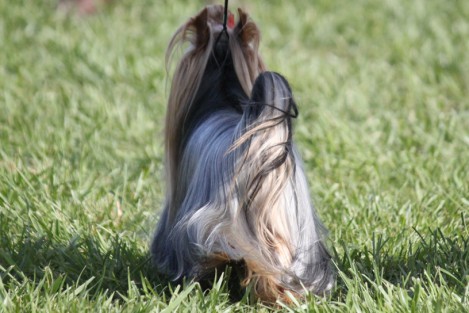 Yorkshire terriers are very intelligent dogs, but sometimes it became not so easy to teach them as they have very independent character.
Despite its small size, courageous and independent Yorkshire, often try to dominate other dogs, as though ignoring their status.
This breed of dog can have children who will be very gentle to handle this dog already understands that this fragile animal can easily cause injury. What is interesting, this breed is almost does not fade and can be therefore suitable to people who are allergic to pets.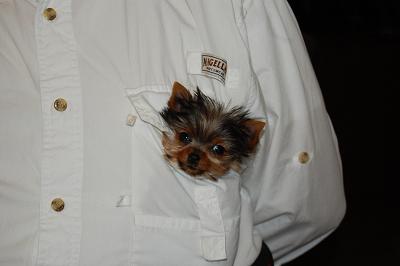 Some Facts
Country of origin: England.
Height: 21 – 23 cm.
Weight: 2 – 3 kg.
The content of the apartment: well suited.
Lifespan: 12 – 15 years.
Good for: inexperienced owners.
Historical Background
Homeland of Yorkshire terrier is Yorkshire and Lancashire in northern England. This breed was popular in the XVIII-XIX centuries in Yorkshire and was described as "a small, blue-gray dog with a semi-long hair." These dogs were kept as the peasants, as they were forbidden to bring large dogs, so they do not poach on the lands belonging to the nobility. Small dog guarded the house from rodents and accompanied their masters in shopping trips along the rivers and canals.
Some experts call among the ancestors of Yorkies and Maltese lapdogs, although they are very different from them: in Maltese hanging ears and white color. It is believed that Yorkshire crossed with lapdog, to improve the quality of the wool, the structure of hair and get silky. In favor of this theory says that in light Yorkies are often very good quality wool.
New breed do weavers, working on new factories. They managed to bring a dog with long silky hair bluish-steel color with pure golden-brown tan. Yorkie that time had a longer body and larger in size than the modern, common to them was a mass of 6-7 kg. A new breed called "blue-and-tan Yorkshire Terrier" quickly gained popularity, displacing other species of small English terrier.
In 1886, the breed was recognized by the Kennel Club and entered in the studbook. In 1898, the first club of the Yorkshire Terrier has been organized.
Diseases of the Yorkshire Terrier
Most often, Yorkshire Terriers are observed to the following diseases:
patella luxation;
liver disease;
inflammation of the pancreas;
low blood sugar;
allergy;
problems with teeth and gums;
sensitivity to drugs.
How to Care after Yorkshire Terrier
The distinguishing feature of Yorkshire terriers is that they do not shed, unlike most other breeds of dogs. However, Yorkies are not that kinds of dogs which easy to clean.
Despite the fact that at the beginning of its life Puppies do not need a lot of care, it is best to start to teach York to the small procedures withdrawal from puppyhood.
It usually takes about 6 months to have a puppy York grew long hair. You should take care after your dog, especially if you want to get silky coat.
It may take a lot of time to care for this breed. If Yorkie does not participate in trade shows, it can be cut. In order to coat Yorkshire terrier looked well-groomed it is necessary to comb almost daily. You may also want to use a special oil for grooming. Oil protects the hair and prevents tangling.
Warning! Yorkshire Terriers do not tolerate the cold, so they need to dress in rainy and cold weather.