Having a pet has become quite trendy nowadays. Everybody loves to spare time with their pets, so they become relaxed and sound. We know that enjoying quality time with pets boosts positive energy in a person. It removes some stressful moments from your life and revives your good mood as well.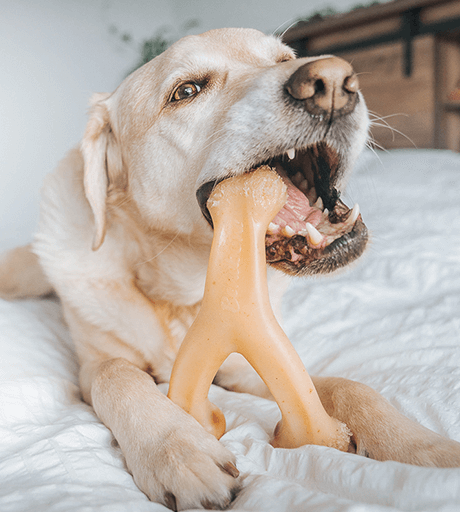 Different people have different pets according to their likes and dislikes, but the most important of all is having a DOG as a pet. We are very well aware of the fact, that dogs are the most faithful pet for humans. People fancy having a well-breed dog in their homes, whom they love to take good care of.
They try to provide all kinds of comfort to their dogs, from food to good nourishment. But, when it comes to taking care of their hygienic and dental care, many people don't give much attention to it, which leaves a very bad impact on your dog's health.
If you love your dog, you want to give it all kinds of ease to him. Teeth-Cleaning is one of them.
Teeth cleaning is very vital for dogs, as it is important for us. For this, you have to make certain check-ups to the pet doctors to keep their teeth strong and hygienic.
But apart from that, there is something you can do to keep them clean. We know that dogs can't brush their teeth by themselves but we can help them to do something about that. There are some well-made and good-quality toys that can be very useful for your dog's dental care.
What are teeth cleaning toys?
Teeth-cleaning toys for dogs are products designed to help keep their teeth and gums healthy. These toys typically have an abrasive surface that helps clean the teeth as the dog chews and plays with them. They may also contain ingredients such as enzymes, probiotics, and other ingredients that can help keep the dog's mouth cool and promote dental health.
Do dog teeth cleaning toys work?
Yes, dog teeth cleaning toys can be an effective way to promote dental health in dogs. Regular use of the toy can help to reduce plaque buildup, prevent tooth decay, and reduce the risk of gum disease. However, they should not be used as a substitute for regular brushing and checkups with the vet.
How to clean a dog's teeth with toys?
When using a dog teeth cleaning toy, it is important to supervise your pet to ensure that they are using the toy properly and not taking chunks out of it and swallowing them. The abrasive surfaces on the toy will help to remove plaque and other debris from the teeth, but it is also important to inspect the toy often and replace it when it starts to show signs of wear.
Additionally, regular brushing and check-ups with the vet are still important even with the use of a cleaning toy.
What should I look for in teeth cleaning toys for dogs?
When considering a teeth cleaning toy for your dog, it is important to look for one that is made of safe, non-toxic materials, and that is strong enough to withstand your pet's chewing. Additionally, you should look for toys that have an abrasive surface that can effectively help to remove plaque and debris from the teeth while being gentle on the gums. Lastly, make sure the toy is made of a material that is safe for your dog to ingest, as some dogs may try to chew off pieces.
It's also important to look for toys that offer additional features, such as flavors or scents that can make dental care more enjoyable for your pet.
Additionally, look for toys that are sized for your particular dog's mouth, as a toy that is too small may be uncomfortable or difficult to use, and a toy that is too large may be difficult for your dog to chew.
In this article, we are going to describe the 5-BEST AND MOSR USEFUL TEETH-CLEANING TOYS FOR DOGS, which will be great for their dental care and make them bacteria and germ-free at affordable prices. Let's figure out these teeth-cleaning toys for dogs by describing their features separately under their headings.
We use Amazon affiliate links, so if you buy something we will get commissions. It helps us to maintain our blog and makes us motivated to write new guides.
1. BENEBONE DOG CHEW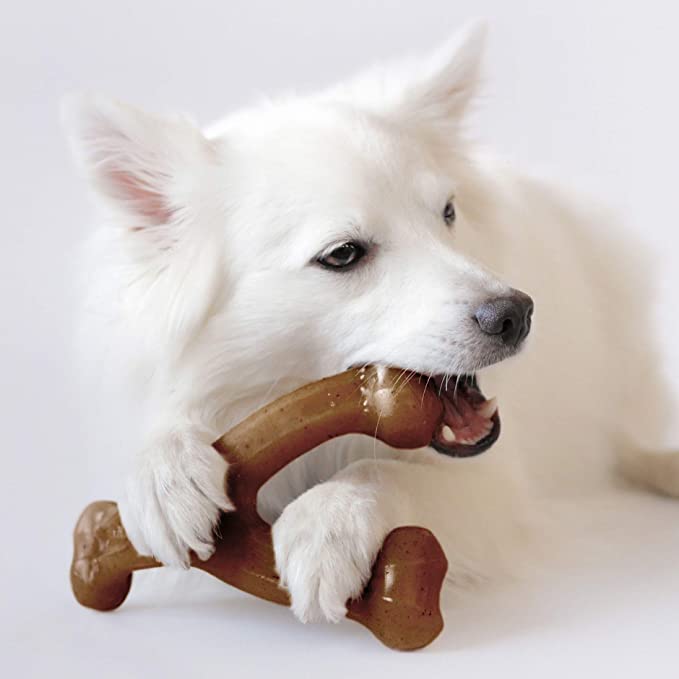 This dental hygienic toy is one of the best teeth-cleaning toys for dogs. It is made up of 100% real bacon flavor, and we are quite aware of this thing that, dogs love bacon.
Its smell and mouth-watery properties attract dogs towards it from a distance. Having this amazing flavor along with the teeth-cleaning properties makes this toy, one of the best teeth-cleaning toys for dogs.
It is comprised of two handles which are on either side of it. This toy is paw-friendly which helps a dog to grip it more firmly, along with chewing. The Dogs can easily pick and chew it simultaneously.
This cleaning agent toy removes all kinds of bacteria and germs from a dog's teeth. It is also very helpful in removing leftover food which is stuck in his mouth along with debris and plaque.
The best thing is it's much more durable than many teeth-cleaning toys. You don't have to worry to replace it with other toys because it lasts for a very long period. You can make this activity much more amazing by playing some exciting games with your dogs.
The dog will engage in both activities, he can enjoy games, and his teeth can be cleaned as well. So you should buy this exciting toy for your lovely dog. He definitely will love this toy!!
2. KONG DENTAL CHEWER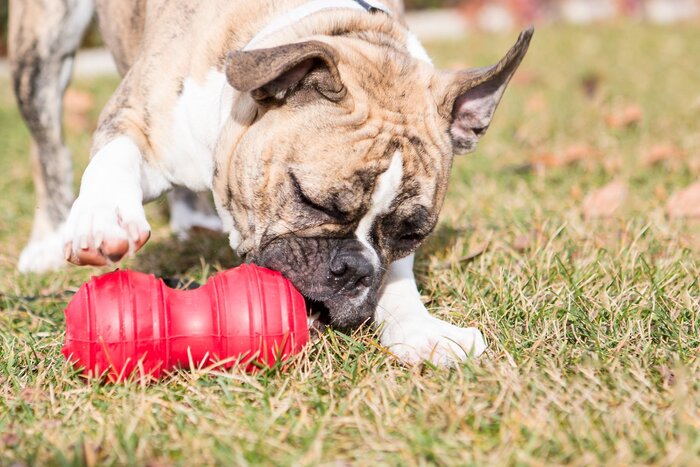 Kong dental chewer is also among the best teeth cleaners for dogs. Cleaning teeth is also mandatory for dogs because it helps them in chewing, which produces enough saliva to take good care of removing all kinds of bacteria and rinse debris from its mouth. Chewing toys helps them to clean their teeth and keep them healthy. Kong dental chewer cleans dog's gums and teeth.
It helps them to build white and germ-free teeth. The best thing about this toy is, it can be stuffed with their favorite snacks. You can stuff it with any kind of snack that has been adored by your dog. Mostly, it is stuffed with peanut butter. The grooves are there in which you can stuff the snacks.
Grooves help in cleaning their teeth. It is made up of Kong's classical unique natural red rubber formula. Kong dental chewer helps in fulfilling the dog's instinctual desires. This toy is also very durable when it comes to quality. It lasts for a very long time. One set of these toys is very much enough for your dog. So what are you waiting for, click on the link above and buy this best toy right now!
3. NYLABONE DURA CHEW X BONE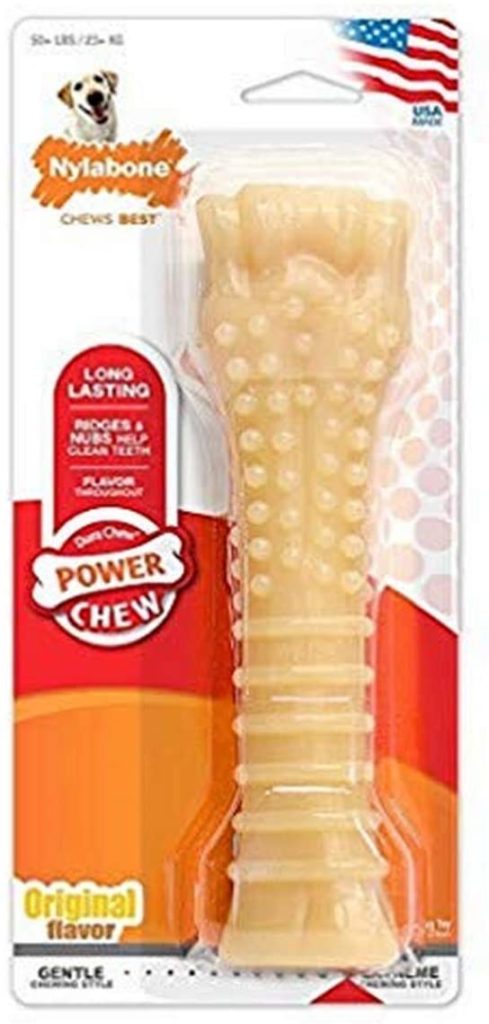 This teeth-cleaning toy is made up of good quality nylon which is durable. It has a delicious beef flavor, which dogs fancy a lot. It is an X-shaped toy, which makes chewing very much easy and proficient, and dogs can feasibly hold this toy. It is comprised of ridges and nubs which are useful in eradicating plaque and tartar from the dog's mouth. This toy is covered with different grooves and nodules.
It is also the best teeth-cleaner toy for dogs that maintain their hygienic and dental care. It is best for those dogs who are very aggressive chewers because it is designed for such types of dogs who use it in a very devastated manner, but you don't need to worry, this toy is best for them and remains fresh for a very long time. It does not get affected an inch, whether a dog used it in a destructing manner, its durability is much greater than other types of teeth-cleaning toys.
4. PETPER SQUEAKY BONE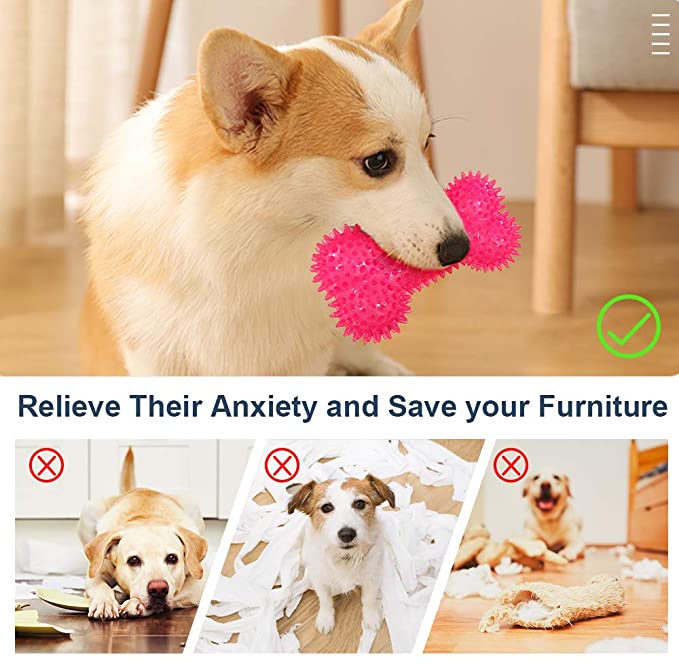 This is an amazing teeth-cleaning toy for dogs, which is made up of TPR (it has thermoplastic material that provides good tearing strength to dogs and is non-toxic. It is covered with squeaks. The nubbins on this squeaky bone are useful in cleaning a dog's teeth, which helps in removing tartar and plaque and keeps his teeth clean and hygienic.
The best thing is that it can easily approach every nook and corner of the mouth, and teeth. It removes every kind of minute particle that would become the reason for causing dirty teeth. This toy messages the gums and deeply penetrates them, which keeps his gums soft and sound.
So the dog would love to play with it as it's cleaning his teeth at the same time. It's quite durable for a long time. It helps in creating a positive association between dogs and a toy. This amazing squeaky teeth-cleaning toy provides very much fun to dogs and would create excitement in them.
This is very much suitable for medium and small types of dogs. The dog, while playing can take it in water and it won't be affected by it. Dogs are keen on gnawing and fetching this toy. The most important thing is, it's recyclable, which is the most amazing feature of this toy. Buy your dog this toy right now, if you want clean and germ-free teeth for them.
5. CARROT BRAIDED ROPE TOY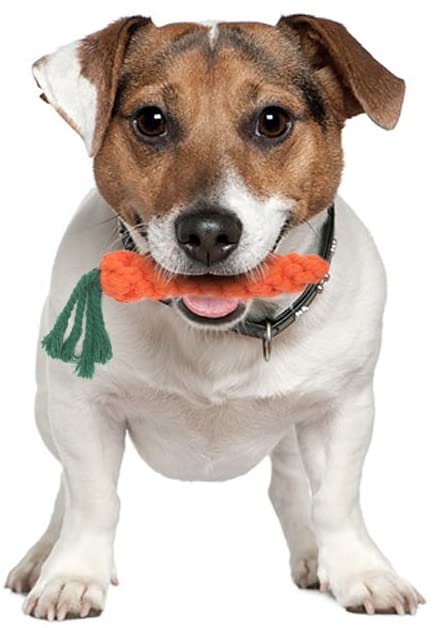 This awesome toy is made up of 100% braided cotton, which is very soft and gentle for dogs. It is non-toxic, so you don't have to worry about the quality of this. This toy is good for puppies, If they are quite young, so it would be suitable for them because their teeth are informing state.
So this would provide comfort to them. It is quite healthy for the development of a doggy's teeth. It softly cleans their teeth while they are busy playing. If you are in some work and would not able to give enough time to them, then this toy is there to help you. If dogs have this toy, they would not feel bored and lonely. It comes in vivid colors that attract dogs to it.
It is helpful in their muscle development. It is also good for the factors which cause bad breath in them. Dogs can firmly hold this toy and it stays for a long time. You don't have to replace it with the other set of it. If you buy this toy for your dog, it would keep away him from biting wires, clothes, or shoes. The dog can easily grind it in their teeth.
CONCLUSION
There are many kinds of teeth-cleaning toys available on the market. We know that it becomes very much confusing for you, that what type of toy you should buy for your dogs. We have summarized the list of the best and most amazing teeth-cleaning toys that are great, have good quality, are germ-free, and keep your doggy's teeth clean, and white.
The best thing is they are non-toxic so they won't affect your doggy's teeth in any way. Some toys come in various, mouth-watering, and exciting flavors which a doggy loves a lot and hence, it attracts dogs towards them. These toys keep your dogs as fresh as daisy. Dogs love to play with them, as it arises positive interaction between the toys and them.
It removes the boredom and loneliness from their life because they have these exciting toys with them. So without giving a single thought to it, select any type of the top 5 teeth-cleaning toys, which we mentioned in this article, and buy it today with a single click which is right under the heading of the product. We assure you, your dog would adore it a lot!!