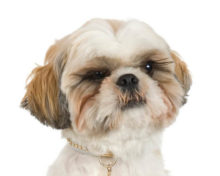 Shih Tzu

Popularity: №20
Origin: China
full info about breed >>
Introduction
There're many ways to choose a good dog name. Some owners tend to underline personalities, coat color or constitution of their puppies, whereas some of them prefer to address to some treats their dog like (or look like). Anyway, here you can see the top famous girl names, suitable for Shih Tzu, so you could choose from. Or you can come up with a unique one after all.
The list
Bianca means "white, pure". It fits well for a small white brave Shih Tzu girl who'll fill your home with fun and joy
Lioness. Since Shih Tzu means "lion dog", the name Lioness can be really appropriate as a nice game of words.
Percy. Fits well for those dogs who are always vigilant and attentive, always on guard.
Petunia. Picture your loving, sweet pooch waking you up in the morning and jumping out of bed to go into the kitchen while you make your morning coffee.
Pickles. A nice name for those babies who may turn too cocky from time to time.
Duchess. As it's a royal dog, why don't you entitle her to reflect the strength and confidence you recognize in him.
Tinkerbell. This name is for little naughty fidgets who can't stand still and always into some activity.
Zeke. Means "God will strengthen". For those who are strong and unbreakable this name will fit.
Ziggy. For those Shih Tzus who are full of fun loving energy and pizzazz (as if some of them isn't).