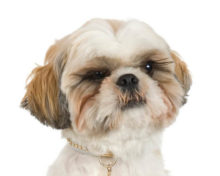 Shih Tzu

Popularity: №20
Origin: China
full info about breed >>
Shih Tzu dogs were cultivated and bred in the imperial palaces for centuries. Shih Tzu sat on silken cushions, eating "imperial" food and walked in a specially allocated for them marble courtyards. That is why these dogs have never tried to hunt and do not attack the enemy. They just enjoy life and the fact that they are close to their favorite hosts, giving them their love and care.
Historical Background
In 1653 the Tibetan Great Fifth Dalai Lama, intending to visit to the Chinese emperor, took a present of several dogs looking like lions. There was no more valuable gift, which could make the people of Tibet. These dogs were cult animals: they were object of worship and kept in temples. People of Tibet thought that they were moving spirits of the dead priests.
For centuries, the dog-lion was crowned as a privilege of only the emperor and his aristocratic families. Shih Tzu in presenting a gift were considered as a sign of special favor. There could be no question about how to sell or buy a puppy Shih Tzu on markets.
Shih Tzu were an integral part of the imperial court and guarded carefully. Therefore, the first dogs were taken to Europe only in the twenties of this century. After that it start to spread into other countries. Nowadays, this type of dogs are very popular due to its unique look and playfulness. They participate in different contests and very close to people.
The Physical Appearance
Shi Tzu is a small, lively, energetic, elegant dog. The distinctive features of the breed are that they have very round head with a short snout and thick, long, straight hair, covering the whole body. The full grown dog may have very long hair. They have big beard and mustache on the face. Their hair on the nose grows upward and outward, creating the impression of a chrysanthemum.
Their size can vary from 23 to 28 cm and weight from 4.5 to 8.2 kilos. This type of dogs also vary in colors: from brown chocolate one to black with white markings on his forehead.
Sexual type is very distinctive: males are more sturdily built, with a long feathered. Females are lighter in build.
Recommendation
In case you are going to buy a Shih Tzu puppy pay attention to the physical appearance of the puppy, it should be healthy and strong, agile and playful. The coat should be thin and easy to pass the buck and should be dense. Backbone should be with strong muscles. The limbs are usually straight and parallel to each other.
Conclusion
Due to the virtue of their temperament, Shiz Tzu can make a good companion, not only for people but also for other animals. Shih Tzu tend to find a common language with everyone. As being a dog with dignity, sometimes they may seem puffed up with pride.
Shih Tzu need a lot of attention and love to be in the center. These dogs can sit for hours on the handles, pampered and hugging. It is not appropriate dog for those who have not a lot of time to spend at home as they and cannot devote the proper amount of attention to the pet.