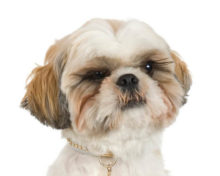 Shih Tzu

Popularity: №20
Origin: China
full info about breed >>
Shih Tzu is a quite gentle and even refined breed. This also applies to the diet, which should match the physical features of the body of this breed.
The owners, who prefer natural feeding pets should be especially careful in selecting products for dogs. There are certain restricted foods that is not recommended for Shih Tzu.
What is not Allowed for Shih Tzu?
It is prohibited to give the pork products, and freshwater fish, barley, potatoes and pasta, and legumes (lentils, peas, beans) for Shih Tzu. Also, it is strictly contraindicated for Shih Tzu sweets and meats.
Recommended Products for Natural Feeding
Raw meat: beef, veal, turkey, chicken, rabbit.
You can add beef offals: lung, liver, heart, tripe, tongue. In this case, the liver can be given only in boiled form.
Be careful if you are choosing fish for the feeding: it should not be greasy and can be add to the ration only in the form of fillets.
One of the meals you can give to Shih Tzu can be porridge of rice or buckwheat with finely chopped meat, but not scrolled in a meat grinder. However, light color dogs may change their wool from buckwheat. If this tone is not included in your plans, you will have to feed the dog only by rice.
Dairy products: kefir, yogurt, cottage cheese. Milk is better not to give.
It is necessary to add to a diet vegetables: zucchini, carrots, cabbage, etc. and fruits in the form of raw grated salads.
Some Shih Tzu breeders recommend a separate food for dogs. For instance, in the morning, you can offer the dog cottage cheese, lunch rice with vegetables and vegetable oil, and for dinner – meat.
Warning! Do not give the frozen meat or fish!
Feeding by Dry Food
Choosing for a Shih Tzu dry food you should remember that this breed's pride is its hair. Therefore, your pet's beauty and grooming depends largely on quality of food you are giving to him. However, some food can cause barfing or allergic reactions in dogs. Therefore, in order to avoid these problems be careful when you want to add something new to the ration of your dog.
It is better to choose for Shih Tzu dog premium food, with low levels of fat and protein. They should be specially produced for fancy breed. For example, such food produce Proplan line, Royal Canin, Ekanuba and other companies. You can give such food in the dry form. It is good for young animals' teeth. However, in case your puppy is too young or old, it is better to soak granules in water. It will prevent the tooth problems of your pets.
Feeding your Shih Tzu Puppy
To ensure that the puppy grew up strong and healthy, it is necessary to take a proper care and proper feeding. Puppies up to three months of age should eat good boiled milk porridge, mostly oats and cheese.
Food variety for puppies can be in boiled chicken meat, cheese, apple, grated carrots with sunflower oil, boiled sea fish.
After three months you cannot cook oatmeal in boiling water, cook the usual buckwheat with a small amount of butter. It is required to give cottage cheese with sour cream and a drop of honey every day. You can start to add the raw meat, raw vegetables and fruits.
Here is a recommended schedule of feeding the Shih Tzu puppy:
Puppies from 1.5 to 3 months are fed 5-6 times a day.
Puppies from 3 to 6 months are fed 4 times a day.
Puppies from 6 months to a year are fed 3 times a day.
After one year as an adult dog fed – 2 times a day, morning and evening.
For 3 months puppies it is better to give natural feeding: boiled sea fish (the river one should be excluded), lightly boiled meat, fruit, and vegetables – in raw and cooked forms.