Hybrid
Pugsund or Daug is a cross between a long tiny Dachshund and a curly-tailed Pug. Such a hybrid inherited the best qualities of both parent that makes this dog lively and affectionate companion for single people, as well as for families with children.
How Does Pugsund Look Like?
The appearance of a Pugsund is a nice mixture of its both parents: its body is slightly longer than of a Pug, but not so long as of a Dachshund. You can get absolutely different puppies even in one and the same litter: one will have curled Pug-like tail, the other will inherit long tiny tail of a Dachshund. The muzzle is somewhere between these two breeds (not long and not short), the ears are drop like those of a Dachshund. The legs of a Pugsund are short more like of a Pug. What concerns its fur, Pugsunds are short-haired of black or brown color.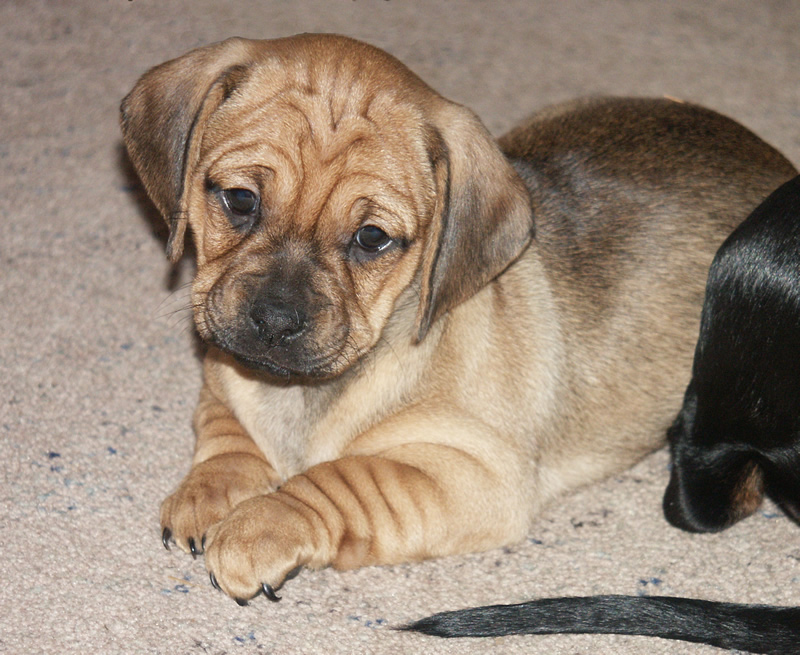 The average height of a Pugsund is 28 cm, weight is about 6-9 kilos, life expectancy – 12-15 years.
Recommendation: if your Pugsund inherited a long body just like its Dachshund parent, make sure you don't overload your dog with active physical training – a dog with an oblong spine can easily hurt it.
Temperament and Behavior
To answer this question, it is necessary to take a look at both parent: Pugs are usually calm and lazy dogs, and, at the same time, Dachshunds are lively, active and rather stubborn. Your Pugsund may be more active or more calm, however it may be a happy medium of both temperaments.
A Pudsund is a dog that will always follow you wherever you go, demanding a lot of attention. However, they are very lazy at times and are found dozing in a corner of the house. A Pugsund is a perfect choice for families with children: a dog will be a nice but active companion playing with kids. However, a Pugsund will also suit singles (also senior), couples without children.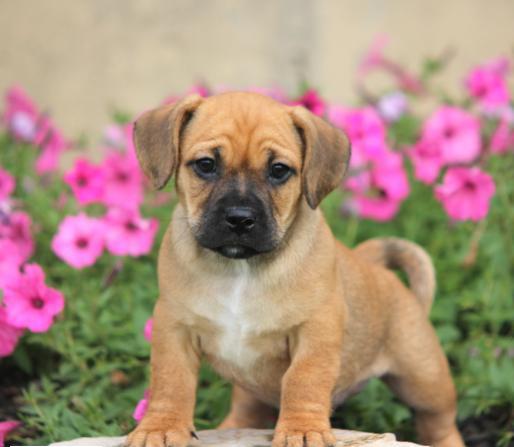 Warning! Like its Dachshund parent, a Pugsund may show aggressiveness toward strangers and pets (owing to its hunting traits). Also, a Pugsund may like to bark too much, that may be annoying. Such dogs need to undergo special training courses to get rid of these bad manners.
It is necessary to mention, that they can be destructive if not trained properly or left alone for a long time. As their Dachshund parents, these dogs are extremely loyal and protective.
Recommendation: it is necessary to socialize your Pugsund in a proper way since these dogs may be jealous toward other pets in your house showing its proprietary character.
Some Special Training
As it was mentioned above, a Pugsund should undergo some special training course in case it is aggressive or too protective towards strangers and domestic animals.
Advice: it is better to train such a "bad-mannered" dog under the supervision of a skillful dog trainer.
Since Pugsunds may be active and playful (like a Dachshund), they will need long regular walks to release their energy. They don't need some special physical exercises, however, you may engage your dog in agility, Frisbee play or ballgames that will be definitely a plus.
Be careful! Pugsunds should definitely know such basic commands as "Come!", "Stop!", "Sit!", etc. It is advisable to teach a dog these commands since the very puppyhood.
Conclusion
Pugsund is an affectionate, lovable and friendly companion that is able to fit any type of family owing to its cheerful and tender character.