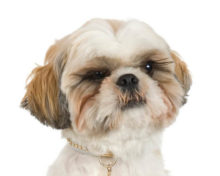 Shih Tzu

Popularity: №20
Origin: China
full info about breed >>
Shih Tzu is a dog that requires very careful and attentive relation. Due to its long hair these type of breed sometimes may occur some skin problems such as itching or dandruff. In this article, we tried to provide the most popular causes of dry itchy skin problems and the ways of treatment. Hope you will find our advices useful and it will help you to patch your Shih Tzu puppy from unpleasant skin problems.
When a dog itches a lot, the first thing that comes to mind is the presence of fleas. Yes, fleabites cause itching, but not always, it is the only reason for itching. Nevertheless, it is easy to identify their presence in the pet. Firstly, find a flea, and secondly take attention to the look of the skin. If there is a slight sore points-bites on the skin you have found the right reason of itching.
If parasites are not found, then the reason might be different, and here it is important to pay attention to the localization of pruritus in dogs. Often scratches its head? Then it is most likely that it is concerned with ear disease of your Shih Tzu. In case Shih Tzu itches in the area near the anus and the back part of the body it might be a good reason to occasional check the anal glands.
Is itching accompanied by dandruff? Maybe you should change your shampoo and other care products for ones that are more suitable. Dandruff or dry skin is a condition that can be cured by the addition to the diet of a small amount of oil. Try in each dish add a little vegetable oil. However, if the dandruff will continue to worry, it is better to seek the advice of your veterinarian, because the cause could be a disease of the lower layers of the skin to be treated professionally.
In addition, constantly scratching Shih Tzu can due to an unbalanced diet. For example, when there is excess of the protein or fat in the menu, wrong or poor-quality feeding, and allergies to certain grains. You should check the reaction of your dog to certain goods and after that go to the specialist.
Sometimes several parts of the skin can be injured by gradually increasing flaky layers of scales. Subsequently, the hair is separated from the roots which can cause a big bald in these areas. In order to get rid of the illness make soap bathing for your dog. At night, carefully smear the affected area with linseed oil. And of course, do not hesitate to show your pet to veterinarian.
Attention!
We want to remind you that it is only the overall description of the causes and treatment of skin problems for your dog. Always remember that the best and safe way to release your dog from any injuries is take an appropriate consultation from your veterinarian.