For those looking to add a Goldendoodle to their family, Florida has a number of reputable breeders to consider. If you're searching for one of these intelligent, friendly, low-shedding dogs, this article provides important information for your breeder search.
We'll highlight some of the top Goldendoodle breeders in Florida
Provide tips for identifying responsible breeding practices
You'll learn typical pricing
Understand differences between F1 and F1b generations
With waitlists that can stretch up to two years, doing thorough research is key to finding the right Goldendoodle for your home. Use this guide to understand what to look for in a Florida Goldendoodle breeder. Whether you're a first-time or veteran dog owner, the advice here will help set you up for success in bringing home your new furry family member.
Tampa Goldendoodle
Tampa Goldendoodle, formerly known as Fishhawk Goldendoodle, is a reputable home-based breeder specializing in Golden Doodles located near the Fishhawk Ranch Area. They are dedicated to providing families with joy and companionship through their lovingly raised puppies. Every puppy from Tampa Goldendoodle comes with a health certificate from their trusted veterinarian.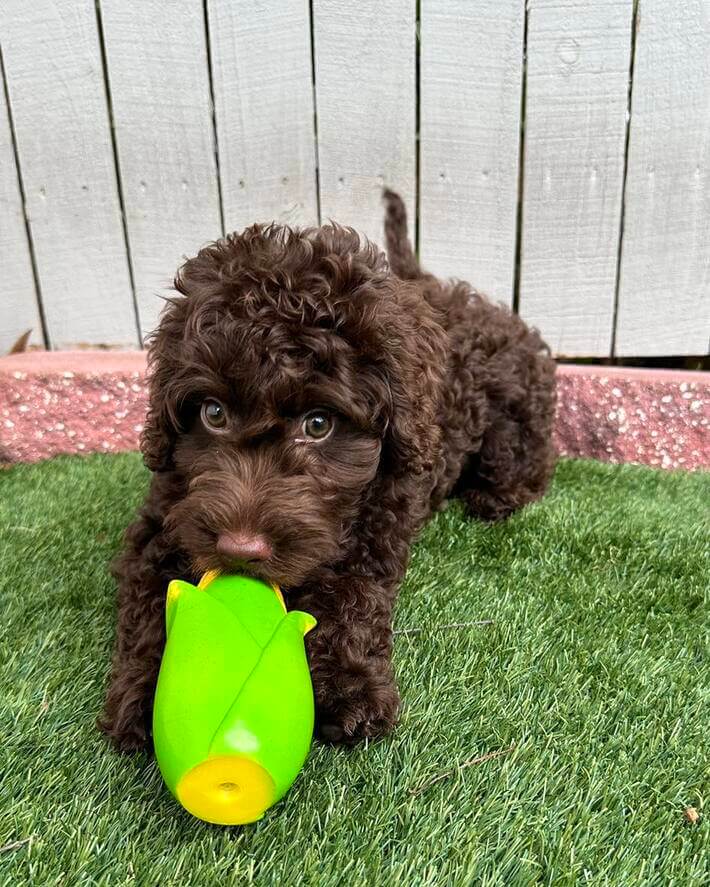 This breeder offers a variety of Goldendoodle generations, including F1, F1B, F2B, and Mini Goldendoodles. What sets Tampa Goldendoodle apart is their commitment to socializing their puppies. These dogs are raised in a home environment with daily interactions with family and friends, ensuring that they become well-acquainted with young children and other dogs. Their dogs are cherished as part of the family, receiving the love and care they deserve.
Tampa Goldendoodle was born out of a desire to share the incredible experience of having a Goldendoodle as a family pet. They believe in the unmatched bond and joy that these dogs can bring to households. Owning a Tampa Goldendoodle is a decision that promises not only a loving companion but also a source of endless delight for your family.
Tampa Goldendoodle details
D' Shalom Goldendoodles
D'shalom Goldendoodles, located in the picturesque town of Frostproof, Central Florida, has been creating cherished memories for families since 2010. Their journey as breeders reflects a deep love and passion for Goldendoodles, which has not only grown them as breeders but also as ardent pet lovers.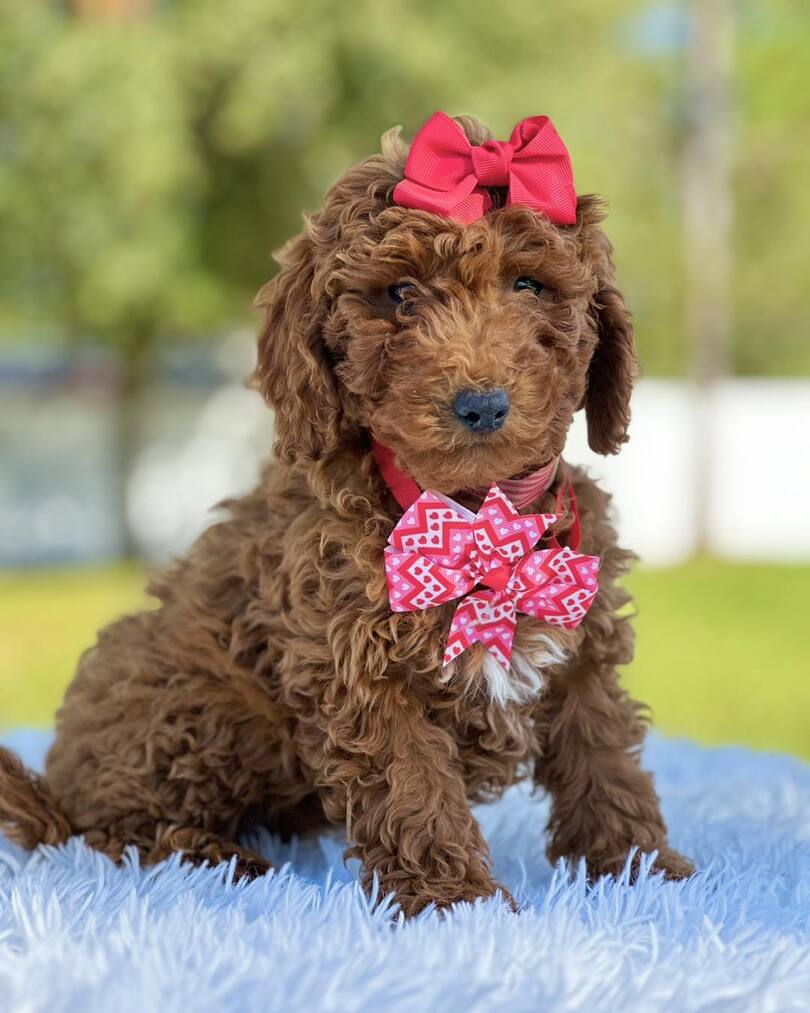 One of their standout features is their commitment to giving each puppy a significant amount of attention and care, particularly during their early stages. This ensures that their puppies, including F1b, F1bb, and Multigen Goldendoodles, mature into friendly and adaptable dogs, ready to be part of your family.
There are simple steps:
Choose a Pet: Browse their selection of puppies and select the one that captures your heart.
Meet Us: Get to know more about D'shalom Goldendoodles, their values, and their commitment to breeding high-quality puppies.
Fill Out the Application: Begin the journey by filling out an application and making a deposit.
Reserve Your Puppy: Once you've reserved your puppy, you can take them home, where the fun and love of a new furry family member begin.
D'shalom Goldendoodles offers a variety of Goldendoodle generations, including Multigen, F1b, and F1bb Goldendoodles. Their dedication to the well-being of their puppies and the satisfaction of their customers is evident in their approach to breeding.
They believe that socialization is important from a very young age, and their children actively participate in caring for and playing with the puppies. The result is intelligent, affectionate, non-shedding, hypoallergenic, and easily trainable dogs, ready to bring joy to your family.
D' Shalom Goldendoodles details
Goldendoodle By Aggie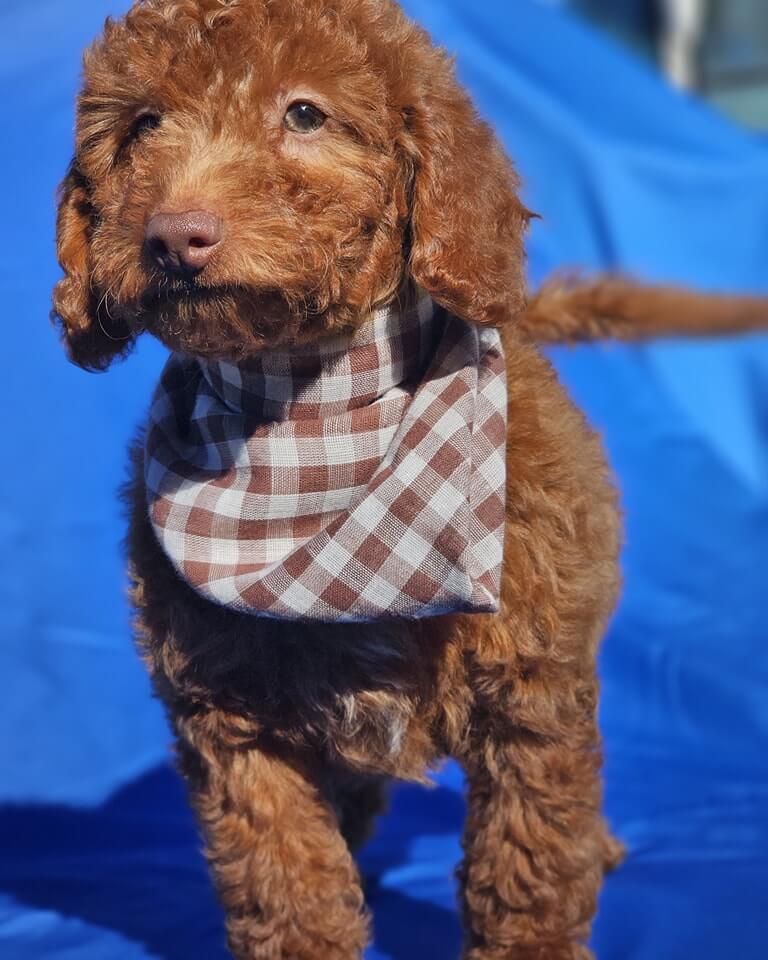 Goldendoodles by Aggie, a cherished family-owned and operated breeding business situated in Kissimmee, FL, is a treasure trove for those seeking Goldendoodles and other delightful Doodle varieties. Their roots run deep in their love for Goldendoodles, and they've been dedicated to sharing these wonderful companions with families. The journey began in 2009 with their first Goldendoodle, Nala, who holds a special place in their hearts due to her bold personality and loving nature.
Since then, the family's breeding program has flourished, offering various Doodle breeds, including Standard, Medium, Miniature, Toy, Bernedoodles, Aussiedoodles, and Irisdoodles. Nala, their matriarch, now serves as a nurturing foster mom to the new puppies, demonstrating the family's commitment to their four-legged members and their forever families.
Goldendoodles by Aggie takes a unique and hands-on approach to puppy birth, with Aggie acting as a midwife during the process. They provide unwavering support to both mother and puppies, ensuring a smooth and loving start to life. Their dedication extends to daily activities that involve puppies in potty training and interaction with children from 6 months and up, allowing them to experience the joys of family life and revealing their unique personalities.
When you adopt a puppy from Goldendoodles by Aggie, you become a part of their extended family, a testament to their commitment to fostering a sense of belonging.
What's Included? Their puppies are known for being excellent family pets, characterized by high intelligence, affectionate nature, delightful personalities, low to non-shedding coats, hypoallergenic qualities, and ease of training. Each puppy arrives with a comprehensive package, including a valid health certificate, a one-year health guarantee, records of shots and deworming, 15 days of fleas and heartworm protection, a blanket or toy, a food sample, and a puppy schedule. For added convenience, they offer the option of shipping puppies anywhere in the US and Puerto Rico for an extra fee.
Goldendoodle By Aggie details
Location: S Wind, Kissimmee, FL
Hours: Friday 10 am–3 pm, Saturday Closed, Other days: 11 am–7 pm
Phone: +1 407-655-6285
Website: https://goldendoodlesbyaggie.com/
Facebook: https://www.facebook.com/doodlesbyaggie/
Stormie's Doodles, LLC
Stormie's Doodles, voted the #1 Goldendoodle Breeder in the State of Florida by DevotedtoDog.com, is a reputable breeder known for their commitment to puppy well-being and customer satisfaction. They offer a comprehensive package that includes:
Regular live feeds and updates on social media.
Early neurological stimulation and developmental curriculum.
Veterinary care with a health certificate and first shots.
Microchipping and lifetime registration.
One-year health guarantee.
Lifetime breeder support.
Access to an exclusive Facebook group for puppy families.
Puppy training resources and expert advice.
Discounts for future puppy purchases.
Annual family reunion event with exciting perks and giveaways.
This breeder's dedication to the health, socialization, and support of their puppies sets them apart, making them a trustworthy choice for prospective dog owners.
Stormie's Doodles, LLC details
Country Mini Doodle Farms
Country Mini Doodle Farms has earned a solid reputation in the world of Mini Goldendoodle breeders. For over 16 years, they've meticulously crafted their standing as a trusted source for high-quality Mini and Toy Goldendoodles. One of the key highlights of their breeding program is the combination of the Golden Retriever's sweet disposition with the Poodle's minimal shedding and intelligence, making their puppies excellent family pets.
A notable advantage of choosing Country Mini Doodle Farms is their personal approach to the adoption process. They understand the importance of finding the right puppy for your family, and they strive to ensure a seamless and reassuring experience from start to finish.
The breeder's USDA Class A license speaks to their commitment to maintaining top-notch facilities, stringent record-keeping, and the well-being of their dogs and puppies. Regular inspections by USDA inspectors underscore their dedication to the highest standards of care.
Health is a top priority for Country Mini Doodle Farms. Their comprehensive DNA Health and Breed testing on all parent dogs is a standout feature. This testing helps identify and address genetically tested health issues, ensuring peace of mind for adopting families.
Additionally, their money-back guarantee reflects their commitment to the well-being of their puppies and the satisfaction of their clients. They offer a full refund of deposits for families who decide not to proceed with a puppy reservation for any reason.
Country Mini Doodle Farms goes the extra mile by providing a 2-year health guarantee against genetic issues, with the option to extend it to 3 years by using NuVet Plus immune system builder. This extended coverage is a valuable benefit for puppy owners.
Country Mini Doodle Farms details
Goldendoodles of Miami Corp
Goldendoodles of Miami Corp is an exceptional breeding program renowned for its commitment to providing the highest standard of Goldendoodles, Bernedoodles, Poodles, and Cavapoos. Their distinction lies in several key factors:
Carefully Selected Parents: They take pride in their selection process, ensuring that the parents of their puppies are not only health-tested but also possess impeccable service dog temperaments. This results in puppies that are not just bred but are cherished family members with exceptional qualities.
Innovative BAB Curriculum: What sets them apart is their dedication to the well-being and development of their puppies. They've implemented the cutting-edge BAB curriculum, which encompasses early neurological stimulation, sensory training, basic commands, and even potty training. This comprehensive training ensures that the puppies arrive at your doorstep ready for a seamless transition into your loving home, setting them up for success from day one.
Health Assurance: Goldendoodles of Miami Corp goes the extra mile by offering a robust two-year health guarantee. This demonstrates their confidence in the quality of their puppies and provides peace of mind to new puppy owners.
Complimentary Insurance: For an even smoother journey into pet parenthood, they offer an exclusive 30-day complimentary insurance plan through their partnership with Trupanion. This coverage ensures that any unforeseen health concerns or accidents in the first 30 days are handled at absolutely no cost to you.
In summary, Goldendoodles of Miami Corp's unwavering dedication to the well-being of their puppies, combined with their stringent breeding standards and comprehensive training, makes them a trusted and reliable choice for anyone seeking a new furry family member.
Goldendoodles of Miami Corp details
First Coast Goldendoodles
First Coast Golden Doodles, based in Jacksonville, Florida, is a small, family-owned and operated breeder dedicated to producing high-quality Golden Doodles. Their mission is to provide healthy, long-living companions that shed less than their parent breeds. Here's what sets them apart:
Family-Centered Approach: All their puppies are raised in the heart of their homes, ensuring early socialization. With a family full of young kids, the puppies are well-adapted to being handled by all ages. They begin crate and litter box training from an early age, making the transition to their new homes a breeze.
Comprehensive Early Training: From as early as two or three weeks old, the puppies are exposed to various sounds, smells, and experiences, fostering confidence and a well-rounded temperament. They utilize training methods from Baxter and Bella to encourage continued training after leaving their home.
Extended Breeder Support: First Coast Golden Doodles provides ongoing support to their clients through community groups online. They offer training tips, photo exchanges, and encourage playdates between families. Their dedication to quality service is evident in their strong reputation.
Thoughtful Breeding: The focus is on breeding F1b, F1bb, F2b, and Multi-generational Golden Doodles. Parents undergo health testing and screening to ensure compatibility in structure, color, and temperament. They specialize in Standard, Medium, and Mini Doodles.
Home Environment: Instead of a traditional facility, their home includes a dedicated area for the dogs. Puppies have their own nurseries, are litter box trained, and introduced to crates as they grow. They receive plenty of socialization, playtime, and outdoor exploration. Adult breeding dogs are cherished family members and enjoy a loving home environment.
A Lifelong Passion: The family's journey into breeding stems from their lifelong involvement with dogs, particularly poodles. Their first Golden Doodle experience solidified their passion for the breed. With extensive knowledge in genetics, veterinary care, and animal husbandry, they felt confident in raising top-quality Golden Doodles. Their dedication is driven by a desire to create the best possible puppies and help families complete their homes with a Golden Doodle.
First Coast Goldendoodles details
Location: 8857 Old Plank Rd, Jacksonville, FL
Hours: 9 am–5 pm
Phone: +1 904-554-9497
Suncoast Goldendoodles
Suncoast Goldendoodles details
Doodles Sanctuary
Doodles Sanctuary details
Rae Precious Puppies
Rae Precious Puppies details
The Significance of Finding Reputable Breeders
Responsible breeding practices are not only a matter of ethics but also of ensuring that the dog you welcome into your family enjoys a happy and healthy life. Reputable breeders are committed to producing puppies that are free from genetic diseases and behavioral issues. Here's why finding such breeders is vital:
Health and Well-being: Reputable breeders prioritize the health and well-being of their dogs. They conduct thorough health testing and genetic screening on their breeding dogs to reduce the risk of hereditary diseases being passed down to their offspring.
Temperament: Responsible breeders pay close attention to the temperament and behavior of their dogs. They work to ensure that the puppies they produce have stable and desirable traits, making them suitable for family life.
Ethical Treatment: Reputable breeders provide proper care and living conditions for their dogs. They offer a clean and nurturing environment, as well as socialization opportunities, which are essential for a puppy's development.
Documentation and Transparency: They are transparent about their breeding practices and provide clear documentation, including health records and pedigrees for their puppies. This documentation allows you to trace your puppy's lineage and verify their health history.
Steps to Find a Reputable Breeder
Now that we understand why reputable breeders are essential, let's explore the steps you can take to identify them:
Research: Begin your search by conducting thorough research. Utilize online resources, breed-specific forums, and breeder directories to find breeders in your area. It's crucial to understand the breed you're interested in and the common health issues associated with it.
Referrals: Seek referrals from trusted sources, such as veterinarians, local dog clubs, and experienced dog owners. Personal recommendations are valuable as they often come from people with firsthand experience.
Visit the Breeder's Facilities: This step cannot be emphasized enough. Arrange visits to the breeder's facilities to assess the living conditions of the dogs and the environment in which the puppies are raised. Meeting the breeder in person allows you to gauge their knowledge and passion for the breed.
During your visit, take note of the following:
Cleanliness and organization of the facilities.
The health and appearance of the breeding dogs and puppies.
Interaction between the dogs and the breeder.
Ask questions about their breeding practices, health testing, and socialization methods.
Health Testing and Genetic Screening
Responsible breeders prioritize the health of their breeding dogs through thorough health testing and genetic screening. This process involves a series of tests to assess the overall well-being and genetic predispositions of the breeding dogs. These tests are crucial in preventing hereditary diseases in offspring, as they help identify and eliminate potential health issues from being passed down to puppies. By screening for genetic conditions and maintaining a comprehensive health history, responsible breeders ensure that their puppies have the best possible chance at a healthy and fulfilling life.
Responsible Breeding Environment
A suitable breeding environment for dogs is characterized by the utmost care, attention, and dedication to the dogs' well-being. Responsible breeders create an environment that:
Prioritizes the health and comfort of the dogs.
Offers proper care, including nutrition, exercise, and veterinary attention.
Encourages socialization to ensure well-rounded and friendly puppies.
Provides clean and safe living conditions with adequate space for exercise and play.
By maintaining these conditions, responsible breeders ensure that puppies are raised in an environment that fosters their physical and emotional development, ultimately resulting in well-adjusted and happy dogs.
Transparent Documentation
Reputable breeders place a strong emphasis on transparency and provide clear documentation to new puppy owners. This documentation typically includes:
Health records detailing vaccinations, deworming, and any health conditions.
Pedigrees that trace the lineage of the puppy, allowing you to understand their genetic background.
Contracts outlining the responsibilities of both the breeder and the puppy owner, which can include spaying/neutering requirements and return policies.
Understanding the lineage of your new pet is important as it helps you anticipate potential genetic traits and health considerations. Transparent documentation also ensures that both parties are aware of their responsibilities, creating a harmonious and ethical relationship between breeder and owner.
Understanding F1 vs. F1b Generations
In the realm of dog breeding, understanding the differences between F1 and F1b generations is pivotal. F1 represents the first crossbreeding of two purebred dogs, resulting in a blend of traits inherited from each parent. On the other hand, F1b denotes a backcross to one of the purebred parents, leading to puppies with a more predictable set of traits.
Letter "F" stands for "Filial."
Filial simply means that the dog is a crossbreed rather than a purebred.
The number "1" refers to the fact that the puppies are the first generation offspring of a Poodle and a Golden retriever.
"B" stands for Backcross. Backcross means that the F1 dog is bred with a purebred parent breed.
F1 and F1B Goldendoodles difference in video
Traits and Characteristics
The F1 generation inherits a combination of traits from two different purebred parents, resulting in a diverse set of characteristics. In contrast, F1b puppies are often favored for their more predictable traits, making them an attractive choice for those seeking specific characteristics such as hypoallergenic coats or stable temperaments. This predictability stems from the fact that F1b puppies inherit 75% of their genes from one of the purebred parents, leading to a more consistent expression of desired traits.
How Much Does a Goldendoodle Cost in Florida?
The average price of a Goldendoodle in Florida typically falls within the range of $2,800 to $3,500. Keep in mind that prices may vary based on factors such as the breeder's reputation, the generation of the Goldendoodle, and the dog's specific traits or pedigree.
Goldendoodle breeders in USA