Introduction
Selecting a name for your little ball of fur may be mind-blowing. You may be thinking all day long at the end of your wits and come up with nothing but Sparky or Max. No more brainstorms. Numerous popular names can be found here; and not only names but also criteria based on which you can name your dog.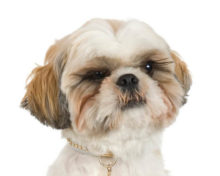 Shih Tzu

Popularity: №20
Origin: China
full info about breed >>
Good and Bad Names
You will undoubtedly find the one which will fit your loving and charming pet, but be advised that if you name your Shih Tzu something like "Salvador Domingo Felipe Jacinto Dalí i Domènech, Marqués de Dalí de Pubol", an attempt to call him may end up with a tongue fracture. A good dog name must be brief, terse and at the same time resonant and easy to remember because you will have to say this word hundreds of times.
Besides, you should understand that this name should be very different from the names of your housemates and other pets to prevent confusion. It's also worth mentioning that giving your dog an embarrassing name will so to say put some limitations on using it in public, so you'd better avoid strong language and stuff like that when naming a dog.
The Criteria
The coat color
A tasty food
A human name (you like)
A name describing his personality or temperament
A name based on size
An Asian name
A royal name
A famous animal name from popular culture
Color
The top names fitting a brown puppy are here:
Brownie
Cadbury
Coco
Cola
Espresso
Fudge
Hershey
Latti
Mocha
Peanut
Pepsi
Recess
Snickers
Woody
For a red or gold puppy you can pick one of these:
Blaze
Brandy
Butterscotch
Cayenne
Cherry
Chestnut
Chili
Cinnamon
Coffee
Cola
Ember
Fawn
Flame
Garnet
Ginger
Hazel
Java
Kona
Kumquat
Mars
Molasses
Nutmeg
Paprika
Rojo
Rusty
Sandy
Scarlett
Sienna
Sunset
Black Shih Tzus may proudly bear names like:

Blackberry
Blackie
Blackjack
Carbon
Charcoal
Ebony
Eight ball
Indigo
Licorice
Midnight
Onyx
Pearl
Raisin
Raven
Soot
To name a white boy puppy, you can choose something like these:
Angel
Biscuit
Champagne
Cloudy
Cotton
Crystal
Icicle
Ivory
Lilli
Marshmallow
Milky Way
Popcorn
Salt
Snowball
Snowflake
Stardust
A black and white dog can be named as
Checkers
Domino
Oreo
Panda
Penguin
Ying-Yang
Since there are no special names people invented for brindled dogs specifically, you can think of naming your dog basing on something else than a coat color if your dog is brindled.
Food
All dogs like treats. Besides, some of them even look like some tasty treats. Owners often give them names like
Cupcake
Cookie
Candy
Brownie
Smores
Twinkie
Prezel
Crackers
Warning: you remember that even a dog named Candy shouldn't be given sugar or chocolate, don't you?
Human Names
You'd like to humiliate some of the world-known dictators? Call your dog Adolf Hitler or Augusto Pinochet! No, it's a joke. Please, don't call your dog Hitler. Seriously, don't. However you can name him after a famous scientist, pop star or an actor, or just give him some short human name that is easy to say and remember; and vice versa, you can dig into an old book to find the most peculiar name possible, like Araminta, Millicent or Grover.
Personality
Some owners tend to name their dogs basing on their temperament or just mock it, i.e. name a coach potato Blitz. Naming a Maltese dog Tiger or Bear can also be a nice joke. Cute names that fall into this category are
Baby Doll
Buddy
Cuddles
Cutie Pie
Precious
Sassy
Shadow
Sweetheart
Size
Shih Tzu is a toy breed, so the names like
Dwarf
Peanut
Pixie
Poco
Speck
Tink
Tinkerbell
Tiny
fit them best, but you can give your Shih Tzu a huge dog's name like Diesel or Giant just for fun.
Royalty
The grandeur of monarchy has passed away long ago, but you can bring its particle back by giving your dog a name like
Duke
Princess
Diana
Starr
Or just call him after a real royalty like
Anastasia
Diana
Elizabeth
Warning: refrain from travelling back in time with such a dog in tow, especially into the Dark Age, otherwise you'll be charged with lèse-majesté.
Asia-related Names
You might want to consider some names, related to Asia; it's a Chinese dog after all:
Bonsai
Chang
Chopsticks
Chow Mein
Geisha
Honda
Hoshi
Kabuki
Kim-chi
Ling-Ling
Mei Lee
Mei Ling
Ming Sue
Saki
Sushi
Tai Pan
Tokyo
Tori
Yang
Yoko
Yoshi
Another Famous Animal
Popular culture is full of animals everyone likes, so why don't you call your dog
Alice
Bambi
Beethoven
Daffy
Daisy
Donald
Jasmine
Lassie
Lion King
Mickey
Minnie
Mulan
Pluto
Rin Tin Tin
Winn-Dixie
Conclusion
We hope this guide will be helpful for you when you name your beloved Shih Tzu male puppy.