Shih Tzu and Golden Retriever
Golden Retriever

Popularity: №3
Origin: United Kingdom
full info about breed >>
The Golden Retriever is a popular dog breed: this friendly and loyal pet is very intelligent and clever. Being an obedient family dog, the Golden Retriever will not give any problems while training.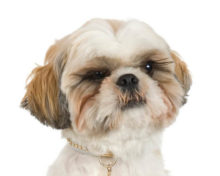 Shih Tzu

Popularity: №20
Origin: China
full info about breed >>
Shih Tzu (the Chrysanthemum Dog) is sturdy and very lively. This playful and friendly toy dog is not a hunter. Its mild character makes it a good friend for a child and adoring family dog.
These two dogs are different in size, appearance and character. Nevertheless, they can have something in common. It is the Golden Retriever Shih Tzu mix.
Personality
It is not a secret that every dog breed has a purpose. Some dogs are good at hunting; others are perfect for being "a family dog".
The Golden Retriever Shih Tzu mix is a middle size dog with an interesting character: it can be playful, alert and lively while playing, but clever and dedicated while training (comparing with Shih Tzu).
It will always need someone's company, being friendly for those it knows and barking at strangers as a good watchdog. It has better adaptability than the Golden Retriever.
Health Problems and Prevention
As both dogs (the Golden Retriever and Shih Tzu) are generally healthy there are not prone to serious diseases. However, as any other breed they can have an allergy, for example, an allergy at shampoo or some food, eye problem, ear infection, dental problems and others. To avoid these problems do not forget to keep its vaccines updated.
This breed is rather unusual as ancestors of dogs are from different breeds. They are not just different in character and habits, they are different in size.
Be careful! While crossing the breeds: female Shih Tzu can have problems during the pregnancy or the whelping process as the size of puppies can be bigger than usual. Female Golden Retriever will cope with it much easier.
Recommendation: before acquiring a puppy check its parents' health history. A unique breed will have both "parents" coming from a very good lineage.
Food Diet
As any other breed dog, the Golden Retriever Shih Tzu mix needs a specific diet with high-quality food.
Advice: the portion depends on the dog's size, age, activity level and metabolism – that is why it is very important to define how to feed your pet.
In order to avoid health problems it is better to ask a specialist about the specificity of the diet.
"Love Me, Feed Me, Never Leave Me"
Do not bother about the process of grooming. It is similar to any other: you have to keep vaccinations updated, train them regularly in order to make the dog obedient but active, do bathing regularly, and comb it every day. This dog will not give you such problems as drooling or giddy behavior.
Warning! It is sensitive to hot or chilly weather. Keep it inside during summer, providing a place in shadow while walking and a plenty of cool water at home, and do not make it frozen in winter.
Conclusion
Being a unique and very special breed, "Shretriever" (the Golden Retriever + Shih Tzu) is a kind of designer dog. You will rarely see it, as breeders do not often cross dogs of different sizes and characters. However, if you take such a dog, you become an owner of a beautiful, loyal, and alert pet with a docile personality.