Husky as a breed was designed to be a hard-working long distance running sled dog. Even nowadays the dogs of this breed participate in the sled snow races.
So, even if your Husky is just a home dog and a companion for the kids, it still needs daily exercise to stay healthy and happy.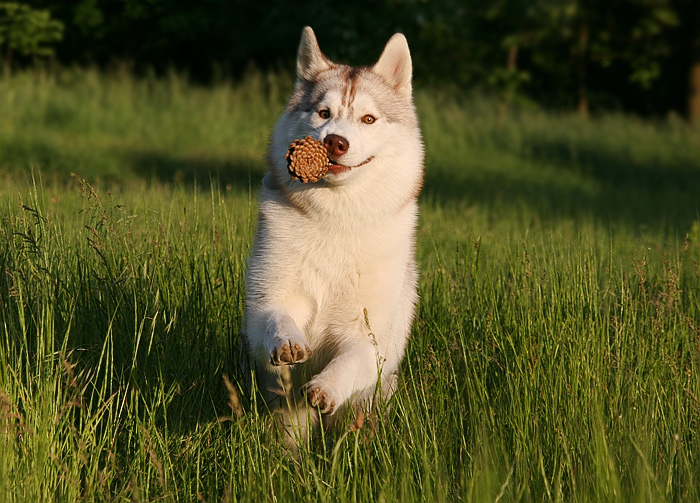 Husky Exercise Needs
There are plenty of different activities you can offer your dog:
Running;
Playing with other dogs;
Swimming;
Bikejoring;
Skijoring;
Swimjoring.
Siberian Husky exercise in summer
One of the most important requirements for Husky exercise during the summer is to keep them cool. Thick layer of fur that keeps this dog warm in coldest Alaskan winters can get them overheated easily.
So here're some suggestions for the hot weather days: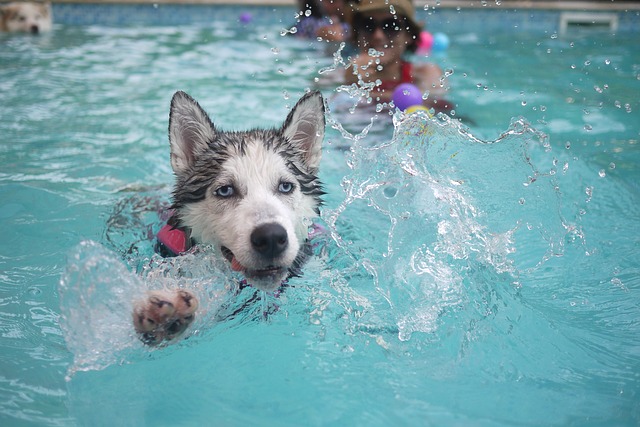 Water can always cool the animal down. If it's too hot outside, swimming workout will do the trick.
Wait for the evening or wake up early to make your jogging routine.
If it's not possible to skip the warm time – keep the equivalent of the exercise to maximum 3-mile run.
Consider exercising possibilities for the dog at your own house in the air conditioned room. Maybe the treadmill or simply running the corridors playing catch with the small ball.

Anyhow pay attention on your dog behavior. The signs for overheating are:

Bright red or very pale tongue and gums.
Thick and excessive saliva.
Excessive panting.
Weakness.

Important! Always make sure your Husky has enough clean fresh water on a hot day.

How to Organize a Daily Exercise Husky?

One of the favorite exercise for the Siberian Husky is running. Be careful, even the calmest pet Husky has its wild side – never let it run unrestrained or it will disappear as soon as it gets a chance. And hopefully will not be hit by a car. So better let it run in the enclosed area, or jog with you on the leash, or run on the side while you ride the bicycle.

When you do the exercise outdoors with your dog, pay attention on its behavior. The animals have their own personalities and while one dog needs marathon distances, the other can be tired after 30 minutes, but require many sessions a day. A puppy of 3-month old shouldn't have running routine longer than 15 minutes at the time. Every dog has its own needs and you have to recognize them.

Normally, you will not need much special equipment for your Siberian Husky exercise. One of the absolute must haves is a harness. When the dog is as active as the Husky breed, the harness with the front clip will be much more comfortable than the collar. Train the dog to obey you and not to pull the leash from the young age so it doesn't damage its own back.

Siberian Huskies are the active dogs with the good health and friendly behavior. When you let them get enough exercise, they release all this crazy energy they have in them and you have your good friend happy and healthy.

Click to rate this post!

[Total:

0

Average:

0

]