Life Expectancy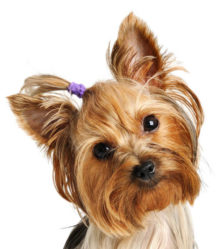 Yorkshire Terrier

Popularity: №13
Origin: United Kingdom
full info about breed >>
Usually, choosing pet potential owner's eager to know how long it will live as it effects on their further life for more than one decade. This also applies to York, but their life expectancy is influenced by many factors, so it is rather difficult to say exactly how many live Yorkshire terriers.
By standard, their average life is 13-16 years. Covering different sides of appropriate care, this article aimed to help owners with useful tips.
Care
Provide Your Pet with appropriate care:
Balanced diet. If you suddenly change the diet, York may react some allergies. Increased protein content leads to obesity. Remember that dogs cannot produce fatty roasts.
It is necessary to pay special attention to the eyes of York. They need to be washed every day decoction of chamomile, using for this purpose with a cotton pad. Also, after the washing you should use special drops that must be purchased from a retailer. If there is pus in the eyes, immediately contact a veterinarian.
It is important to carry out a course of vaccinations. A veterinarian will help to make it in better way.
Caring for the hair. Directly on the duration of the life of grooming has no effect, but York, whose wool is properly laid, will be a significant concern. Avoid risk factors. For mini Yorkshire this is especially important – as has already been stated above, it can be easily crushed. Therefore, when buying a mini Yorkies Organize their home so that they could not harm themselves and could not get "under the distribution" of man.
Warning! Remember that health of your pet depends on the food and nutrition it has. If a young dog shows no signs of the disorder, at the age of 5-6 years, the effects of malnutrition will be shown, and the first thing that suffers in the body York – is the liver.
Diseases
Diseases reducing lifespan of York several years even considering the fact that the usual (not mini) Yorkies – extremely disease resistant breed, they can still have a number of diseases, such as disease Pertessa. This may cause lameness or breach of tooth replacement.
In addition, they might have dislocation of the patella, lowering blood sugar, allergies, violation of the teeth and gums, reaction to medication. Therefore, you should very attentive to each changes in your pet that might have.
Conclusion
Healthy Terrier standards are playful and active, and this allows them to be constantly on tonus. Other words, they have constant desire to run, jump and play strengthens the muscle system of the dog and its heart. Due to this, as well as due to features given by nature this breed has remarkable health, which is the envy of any large dog.
Health in conjunction with the appropriate care considerably increases Yorkshire Terrier's life cycle: if the standard – from 13 to 16 years, active and well-kept specimens can live to 20.